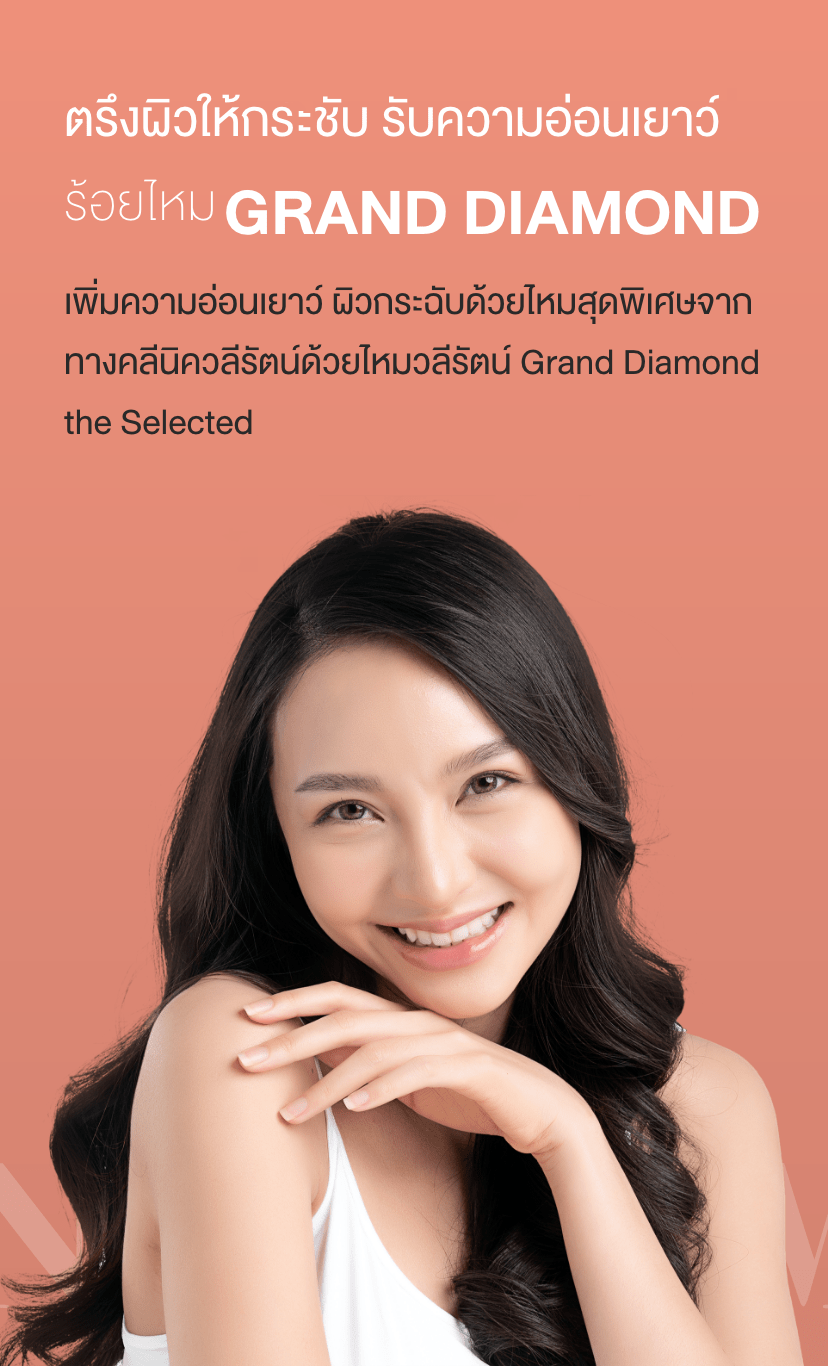 Getting to know
What is a face thread lift ?
Special program: Thread lift with Grand Diamond new innovation is extremely delicate thread lift by advanced technique from a team of doctors experienced, trained in thread lift in Thailand and abroad with ultimate meticulousness.
Effectiveness is increased with absorbable thread material, Molding Thread, special thread shaping, strong, durable cog threads, increased skin lifting force compared to surgery.
The results are more effective than common threads due to strong, large and up to 16 cm long threads, hence good tensile strength, helping lock the face well, maintain the face shape.
Threads are designed to lift and tighten the face for up to 5 years.
Grand Diamond is special absorbable thread made from Polydioxanol or commonly known as PDO suitable for use in face tightening, facial contouring, V-Shape face reshaping.
Grand Diamond thread lift is another option without surgery required by just opening small wounds with needle in the face area and threading into the areas with skin problems. The doctor plans corrective threading with advanced reshaping techniques.
As to threading method, the doctor will thread Layer by Layer.  The doctor will place cog threads along the surface to adhere to Superficial Musculo Aponeurotic System (SMAS) layer to lift the sagging skin by using the principles of thread lift against gravitational force, making the results immediately visible.
The patients do not have to worry in all thread lift cases. This technique is less painful threading with harmless local anesthesia and no scar after thread lift.  After treatment, there are only some swelling or bruises, which will gradually disappear.
More importantly, we reshape the face by doctor only in every case.
Grand Diamond has been accredited by the FDA from many countries around the world.  Therefore, you can be assured of safety and beautiful results after thread lift.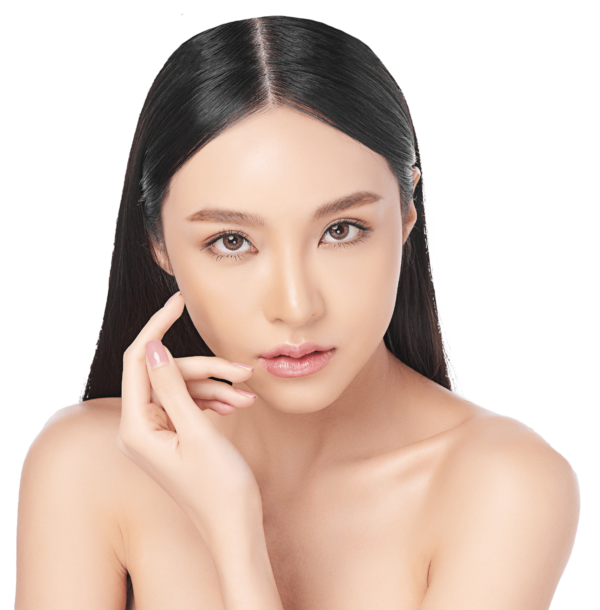 What are the properties of GRAND DIAMOND
helpful?
Grand Diamond silk, distinct material in style because of the unique properties of threads…Specially molding, large, strong barb threads with high tensile strength can stimulate collagen up to 5 times.
This face thread lift is therefore the most effective in the market, which is suitable for lifting the skin, reshaping the face, anti-aging, people aged over 40 having problems with the sagging skin due to age, lack of firmness, need to reshape the face to rejuvenate the skin without resorting to surgery.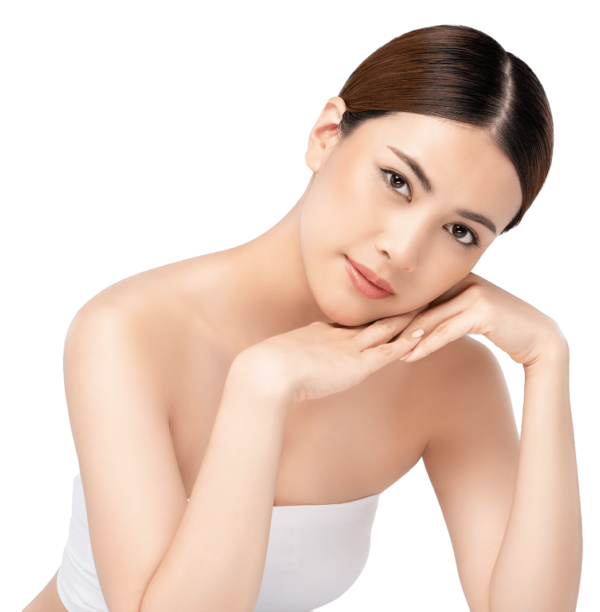 Thread lifting program GRAND DIAMOND
Who is it suitable for?
Threading the face shape
Who is it suitable for?
1. Suitable for people aged 25 – 35 years.
who want to adjust the face shape Keep the face frame
to clear up the face and look firmer
2. People aged 35 years and over with skin problems
Facial sagging, wrinkles, rejuvenation
Let the face look younger
3. People with sagging face, sagging skin
or have been through both lifting and tightening before
but want to adjust the face shape without having to have surgery
4. Those who do not want to have surgery but still want the results of lifting live longer Because thread lifting, facial reshaping with Grand Diamond silk can last up to 5 times longer than general thread threading. The lifespan of the results lasts for more than 5 years.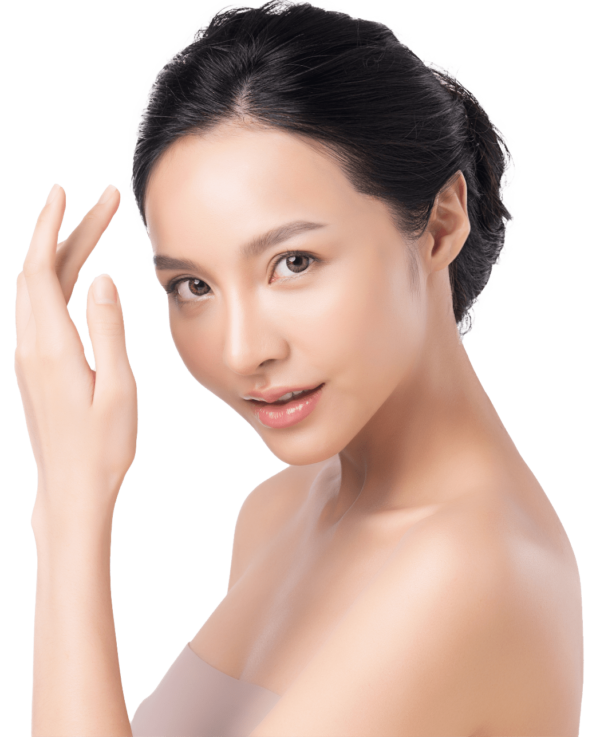 BEFORE & AFTER
Thread lift reviews
How to reshape your face by doing a thread lift.
with a knowledgeable doctor.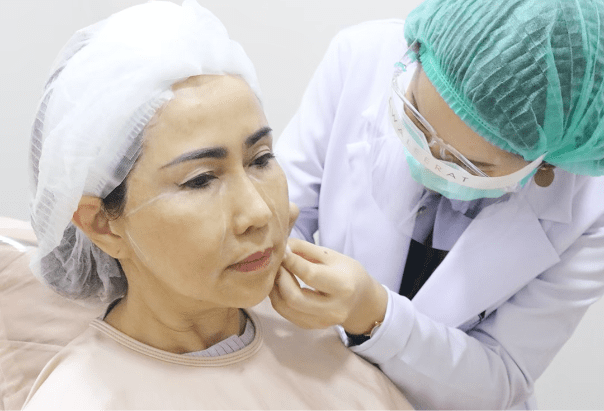 1. Discuss your face shape problem with a professional doctor to get the desired results.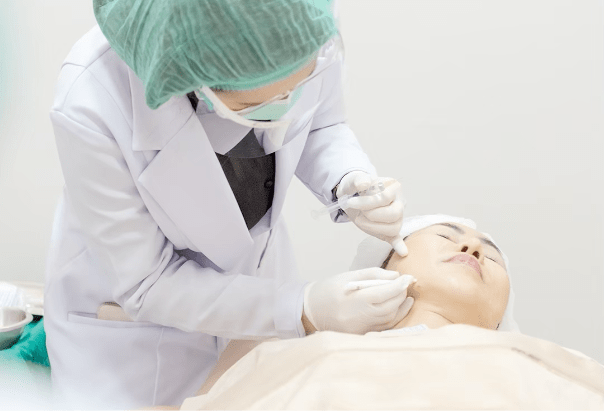 2. The doctor will leave the aesthetic for about 30-40 minutes and massage your face to make the aesthetic work more effectively.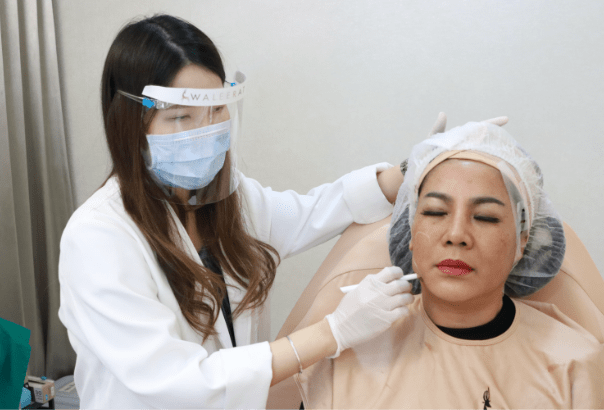 3. then wipe off the anesthetic Then draw a point where the thread will be threaded on the face. Followed by applying a disinfectant.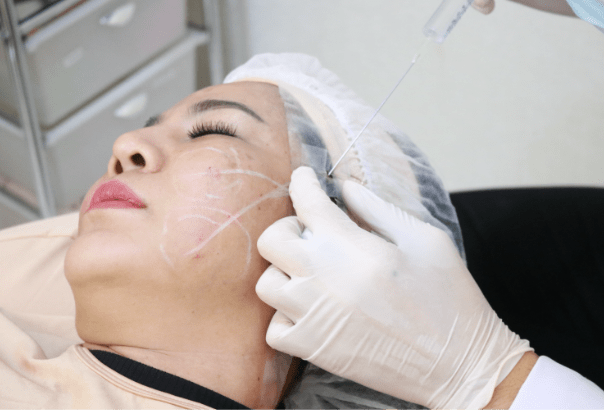 4. the doctor will use the needle Open the skin to create holes for the entrance for threading the threads under the skin in the SMAS layer.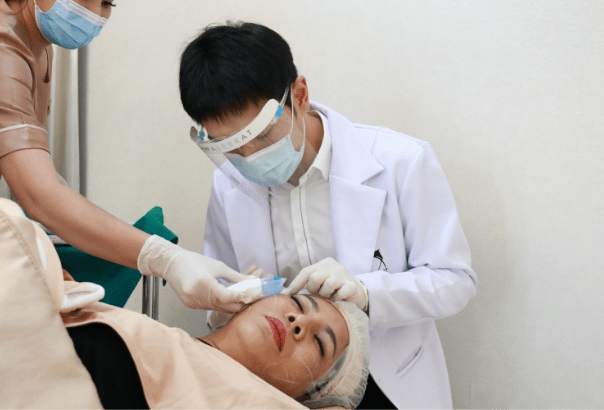 5. After threading is complete, the doctor will cut the thread. and covered with waterproof plaster
Diamond Silk Feature
GRAND DIAMOND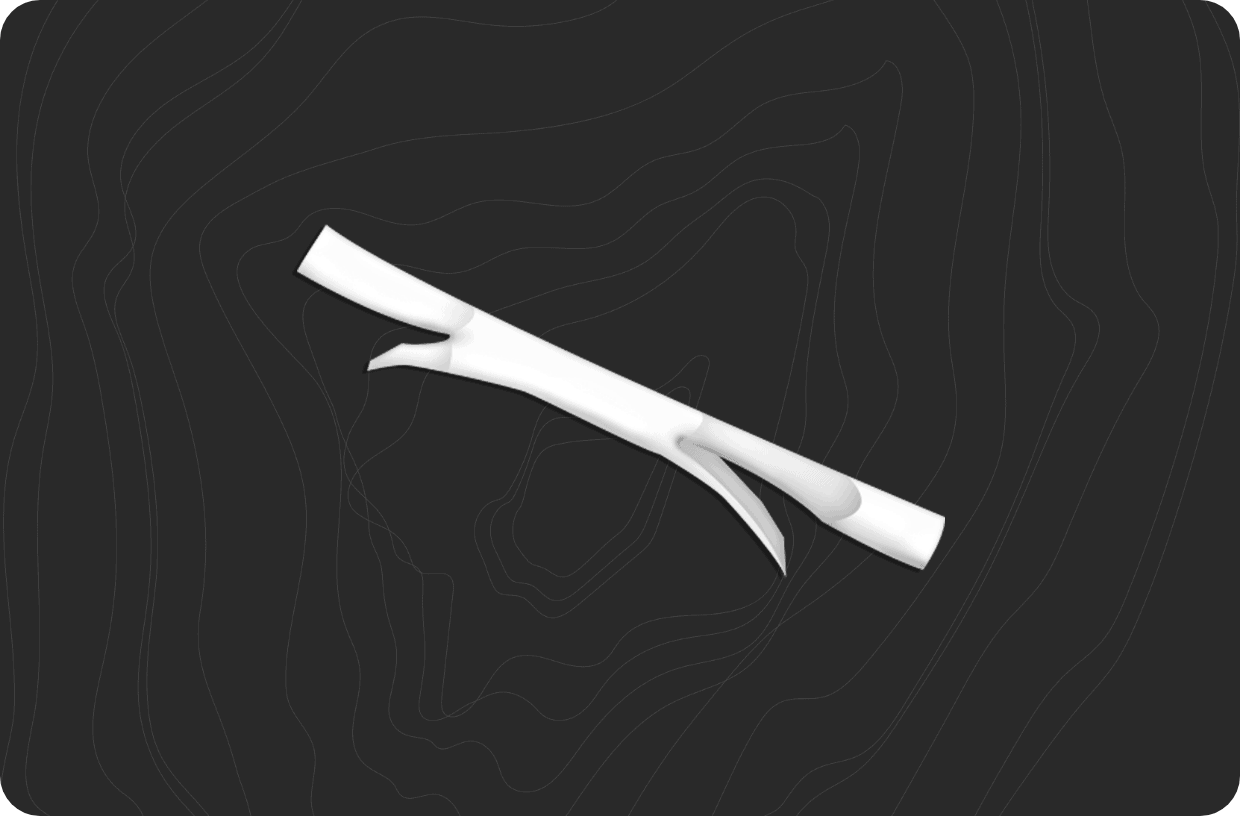 PDO (Polydioxanone) absorbable thread is Molding thread, size 1-0 USP, 17 cm. in length.
Cog threads have diamond-like facets in 360-degree form, help to create collagen all over the face.
Molding thread uses pumping innovation. Threads are strong, stimulate collagen and elastin up to 5 times.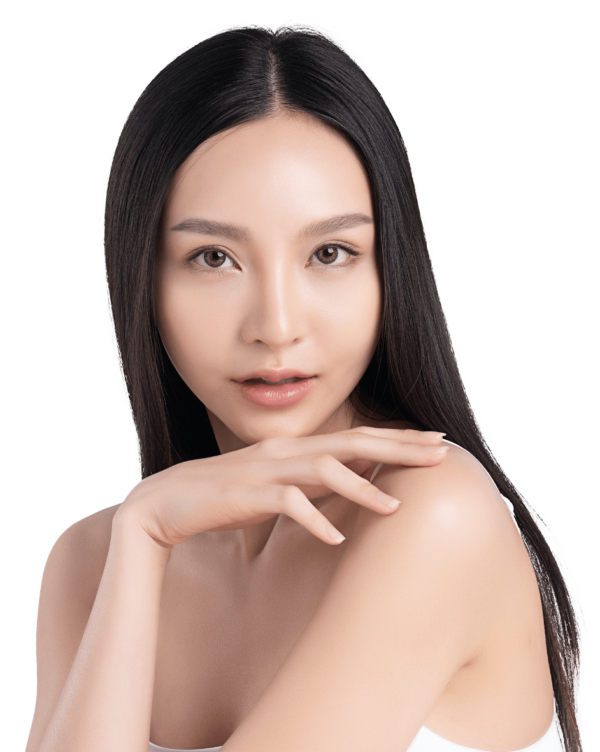 Result After
GRAND DIAMOND THREAD LIFT
After threading the real Grand Diamond, it takes 1 week to recuperate, and even if the threads have dissolved in 1-2 years, but throughout the creation of results, The body will have a process of stimulating collagen. and creating new tissues all the time Thus causing the skin to slow down wrinkles. And there are still results of youthfulness, even after 5 years.
advice before doing
Stop taking any medications or supplements that make it easier to bleed.
abstain from alcohol and energy drinks
No make-up on the day you come to do it. and should wash your hair clean
get enough sleep
If you have any underlying disease, you must inform your doctor first.
Eat collagen to stimulate collagen production.
advice after
Avoid getting in the water / washing your hair for 24 hours.
Abstain from alcohol for 1 week
Avoid smiling or open your mouth wide
Avoid touching your face with force.
Take medications as prescribed by your doctor.
see a doctor by appointment
Frequently asked questions about threading
Grand Diamond Q & A
Hundreds of silk help with what?
ประการแรก กลไกการร้อยไหม จะส่งผลให้เกิดการยกกระชับของผิวในทันที โดยคนไข้ จะเห็นรูปหน้าที่ชัดขึ้น ร่องแก้มตื้นขึ้น ริ้วรอยบนใบหน้าตื้นขึ้น ในทันทีหลังจากทำการร้อยไหม
ประการที่สอง หลังจากร้อยไหมไปแล้วประมาณ 1 สัปดาห์ เส้นไหมจะเข้าไปกระตุ้นการหดตัวของเนื้อเยื่อไขมัน ส่งผลให้ผิวกระชับขึ้น และจะกระชับขึ้นอย่างเห็นได้ชัดหลังจาก 2 เดือนหลังทำ
ประการที่สาม การร้อยไหม จะเข้าไปส่งเสริมการผลิตคอลลาเจน และการสร้างอีลาสตินใหม่ เปรียบเสมือนการเพื่อต่ออายุผิวของคุณในระดับเซลล์ ช่วยให้ผิวหน้าแลดูอ่อนเยาว์
ทั้งหมดนี้ทำงานร่วมกันระหว่างผิวหน้าของคนไข้และเส้นไหม อาจมีความแตกต่างของผลลัพธ์กันออกไปไม่มากนัก ขึ้นอยู่กับปัจจัยภายในและภายนอก เช่น การทานอาหาร การออกกำลังกาย การใช้ชีวิต ก็ส่งผลต่อผลลัพธ์นี้ด้วยเช่นกัน
What material is used for threading the face shape?
one-PDO (melt silk) Molding thread family (moulding silk, stamping according to print) Size USP 1-0 Length 17 cm. Shape of spines. DIAMOND-LIKED Arrangement of spines HELICAL BIDIRECTIONAL Direction of spines 360 DEGREE Lifting speed within 15 minutes 3 times more tensile strength Average lasting effect: more than 5 years
Threading the face shape how long to stay
Thread lifting at Waleerat Clinic, we use Grand Daimond real diamond silk, the silk designed by casting (Molding), strong, resistant to tensile strength, stimulates collagen up to 5 times, increasing the efficiency of face lifting for 5 years.
How is thread lifting at Waleerat Clinic different from others?
Waleerat Clinic guarantees confidence with the No.1 Asia Face Lifting award and a customer base and reviews of thread lifting more than 10,000 cases over a period of more than 10 years, ready to give you an experience of rejuvenating your face, tightening, adjusting your V-chef face with results. Every silk weave is woven by hand and care. Layer by Layer face design by a professional medical teacher and passed the silk threading training by Cao Pha to create a beautiful face and the most natural
Threading the face shape How many strands of silk are needed in total?
Thread lifting with Grand Daimond thread, the patient must first assess the face shape with a physician. Due to the basic shape of each patient's face There will be a need for a different number of silk threads. The doctor will assess the number of threads according to the results after thread lifting. and the needs of the patients as well If interested, ask for details on a thin silk thread. You can contact Line to consult with Face Designer at Line : @waleerat click https://bit.ly/2Wu9smj or call for more information: 02-821-5400
How long does it take to make Grand Daimond silk?
การร้อยไหมยกกระชับ ด้วยไหม Grand Daimond นั้นใช้เวลาเพียง 30 ถึง 45 นาทีเท่านั้น หลังจากนั้น หลังจากนั้นคนไข้สามารถกลับบ้านได้เลย โดยไม่จำเป็นต้องมีการพักฟื้น เพียงแค่งดโดนน้ำบริเวณที่ร้อยไหม เป็นเวลา 24 ชั่วโมง
Molding threads give the same results as normal threads?
ไหม Molding ออกแบบมาเพื่อการยกกระชับผิวหน้าโดยเฉพาะ โดยจะให้ผลลัพธ์ของการยกกระชับที่เหนือกว่าไหมทั่วไป และคงประสิทธิภาพของผลลัพธ์ยาวนานถึง 5 ปี ซึ่งถือว่าให้ประสิทธิภาพสูงกว่าไหมทั่วปถึง 5 เท่า
Thread lifting, slender face, when will I see results?
Grand Daimond thread lifting will see visible results within 1-2 months from thread lifting. The main factor depends on the age of the patient. and the patient's problems as well Your age is one of the key factors in how your body produces new, strong collagen in a short amount of time. or longer and give results for up to 5 years
Can Bo Filler injections thread threads to adjust the face shape?
การฉีด Bo หรือ Filler สามารถทำร่วมกันกับการร้อยไหมหน้าเรียวได้ เพื่อผลลัพธ์ในการยกกระชับและเติมเต็มร้ิวรอย ร่อยลึกที่ดีขึ้น และรวดเร็วขึ้น
Threading the face shape Is it safe?
ปัจจุบันการร้อยไหม ถูกพัฒนาขึ้นให้มีมาตรฐานและความปลอดภัยมากกว่าอดีดต โดยวััสดุไหมที่ใช้ ต้อง ได้รับการรับรองจากอย. เพื่อความปลอดภัยและประสิทธิภาพที่เห็นได้ชัดเจน จากงานวิจัยพบว่าการร้อยไหมนั้นก่อให้เกิดการระคายเคือง และความไวต่อเส้นด้าย หรือผลข้างเคียงร้ายแรงได้น้อยมาก ซึ่งปัญหาส่วนใหญ่มักเกิดจากความไม่เชี่ยวชาญด้านการร้อยไหมของแพทย์ ซึ่ง Waleerat Clinic เราใช้อาจารย์แพทย์ที่มีประสบการณ์ด้านการร้อยไหมโดยเฉพาะ จึงมั่นใจได้ประสิทธิภาพและผลลัพธ์
Advantages of threading genuine diamonds GRAND DIAMOND
Squares are designed to be stronger than common types of silk. making it more effective in lifting Provides fast lifting results (within 15 minutes after the procedure) and results that last for about 5 years.
Real diamond silk has 3 times higher adhesion and tensile strength than conventional silk threads, increasing the lifting force. Silk is not easily broken and makes stringing easier without the need for recovery time. able to return to normal daily life
Real diamond silk has a 360-degree spine arrangement, increasing the efficiency of lifting the face. As a result, the facelift can clearly see the change.
Summary of advantages of GRAND DIAMOND LIFTING
Gives good results in face lifting with the efficiency of silk spines like real diamonds
take less time to do
See the change quickly (15 minutes)
take less recovery time return to normal daily life
The results will last for an average of 5 years.
The difference between real diamond silk and herringbone silk
1. GRAND DIAMOND LIFTING production technology is a new technology. There are patents protected all over the world. It is a unique silk that no one can imitate.
2. Special spine/thorn design Makes it effective in lifting the face better than other threads
2.1) The spines/thorns on the silk are durable. After 2 weeks, the spines/thorns of the diamond thread will remain intact, unlike other cutting threads. The spines/thorns will never be the same. As a result, the Silk Diamond Lifting is more effective and the result of lifting the face is longer than other threads.
2.2) he bonding strength and tensile strength are higher than other silk threads. Grand Diamond Lifting offers 3 times more bonding and tensile strength than other thread threads, providing better face lifting results and no fear of missing threading time.
2.3) The spines/thorns are aligned 360 degrees on the silk thread. This increases the efficiency of lifting the face higher.
 3. PDO (polydioxanone-polydioxanol)
PDO It is not dangerous in the body. and will disintegrate within 6 months
One month after the Grand Diamond Lifting silk threads, the embedded silk is absorbed into the body.
Reviews from real users